A brand library for social media.
Cerveza Modelo
Un clásico entre los clásicos de México. Una de las cinco cervezas mas consumidas del país con casi 200 años de historia, un sabor espectacular y yo. El fotógrafo aquí como escritor. El proyecto se trataba de crear 50 imágenes. 40 fijas y 10 con movimiento y cómo todos sabemos, time is money, por eso teníamos que realizar este trabajo idealmente pensado para tres jornadas en dos días. ¿Se puede? Se pudo. Acompañenme a ver esta refrescante historia sobre cómo resolvimos el desafío de crear este apetitoso banco de imágenes junto a Draftline México, Fauna PH y un gran equipo de personas únicas y talentosas.
The classic of classics in Mexico. One of the five most consumed beers in the country withalmost 200 years of history, its spectacular flavor, and me. The photographer that's here asa writer. The project was about creating 50 images. 40 still and 10 with movement. And aswe know, time is money, so we had to do three days worth of work in two. Could we dothat? We did it. Join me in watching this refreshing story about how we solved thechallenge of creating an appetizing image bank alongside Draftline Mexico, Fauna PH, and agreat team of unique and talented people.
Se suele decir que la calidad es enemiga de la cantidad y como alguien que le gusta que las cosas salgan bien (dejo el perfecto para los neuróticos), tener que hacer mucho en poco tiempo, puede ser estresante. Igualmente aquí lo complicado de la campaña era la variedad de las situaciones a fotografiar y no la cantidad de tomas o el tener que hacerlas en dos días, algo a lo que ya estamos un poco acostumbrados todos en este juego.
La agencia había definido tres ejes de situaciones (cocinando y comiendo, relajados con amigos y socializando) en los que debíamos fotografiar los once productos que componen la familia de Cerveza Modelo sin repetir platillos, fondos o escenas.
It's often said that quality is the enemy of quantity, and as someone that likes for things togo well (i'm gonna leave perfection for neurotics), having to do a lot in little time can bestressful. Nonetheless, the hardship of the matter in this campaign was the variety ofsituations to photograph, not the amount of takes or having to do them in two days,something we are a little used to in this game.
The agency had defined three sorts of situations (cooking and eating, relaxing with friends,and socializing) in which we had to photograph all eleven products that make up theCerveza Modelo family, without repeating dishes, backgrounds, or scenes.
La solución es SIEMPRE el trabajo en equipo. Mismo que en fotografía estamos acostumbrados a hacer muchas cosas a la vez, delegar, confiar y relajar es el mantra del éxito.
The solution is ALWAYS teamwork. Because in photography we are used to doing manythings at the same time, delegation, trust, and relaxing is the mantra of success.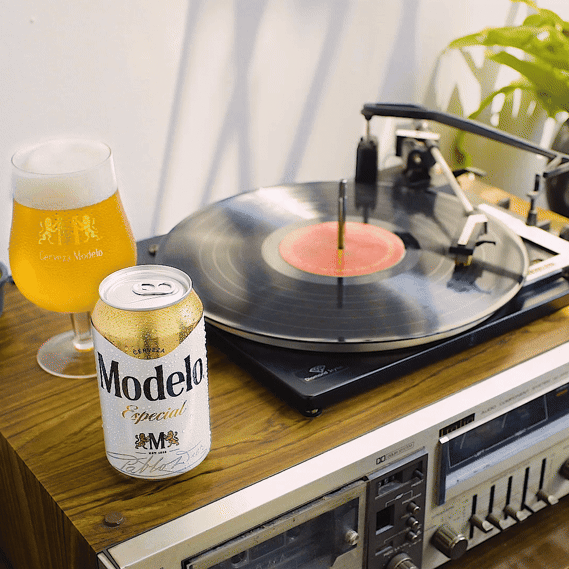 Luz, cámara, acción.
Un buen equipo y un doble scouting técnico.

Las dos cosas que no pueden faltar en un proyecto de este estilo, para poder bajar a tierra todas las ideas que habíamos pensado y ver que funcionaba, que debía ser adaptado y que repensado. Así que, una vez aprobado el proyecto Fauna (mi casa productora en MX) sumó a Gavo Amiel como asistente de dirección al equipo que armamos con Pao Felix en arte, Bea Nogueira como ecónoma y Fede Lepe de DOP. Todos reunidos junto a nuestro gran amigo el Excel, muchas referencias, un poco de inspiración en redes y lápiz y papel, nos pusimos a transformar esa lista de platos en las fotos mas lindas que se nos ocurrieran.
Lights, camera, action.
A great team and a double technical scouting.
These are the two things that we needed for a project of this kind, so we could ground all ofthe ideas we had thought about and see what worked, what had to be adjusted, and whathad to be rethought. So once Project Fauna (my production house in MX) had beenapproved, Gavo Amiel was added as a direction assistant to the team we had built with PaoFelix in art, Bea Nogueira as food stylist, and Fede Lepe as DOP. We all gathered with ourclose friend, Excel, many references, some social media inspiration, and paper and pencil.We turned the list of dishes into the prettiest photos we could possibly think of.
Obviamente nos atrasamos muchísimo, algo inevitable, con tantas tomas por día, pero el resultado fue el esperado. Armar, aprobar, disparar, correr y repetir ;) Viendo todo el material, claramente hubiese cambiado algunas cosas (al que me escriba se las digo en secreto), pero con un plan tan apretado algunas veces tenemos que soltar y avanzar, pero juro que todas las fotos me gustaron y lo más importante, cliente y equipo tuvimos una buena experiencia de trabajo donde aportando cada cual desde su lugar hicimos crecer el trabajo.
We were obviously delayed, something inevitable due to the amount of takes per day, butthe result was what we expected. We set, approve, shoot, run, and repeat ;) Looking back atthe material, there are some things I would clearly change (message me and I'll tell you insecret), but with such tight plans we had to let go and move on. I do swear that I like all ofthe photos, and most importantly, the client and the team had a pleasant work experiencewhere we could all contribute from our end.
Bueno amigues, aquí termina esta refrescante historia. Ya es casi verano en Buenos Aires y estoy con unas ganas de tomar una Modelo Especial bien helada que ni les cuento...
Si se quedaron con ganas de ver un poco más les dejo aquí un "behind the scenes from my phone" 😁
Un Abrazo y hasta la próxima! Gracias por leerme hasta aquí!
Alright friends, that's where the refreshing story ends. It's almost summer in Buenos Airesand I really want to drink a really cold Modelo Especial.
In case you want to see a little more of this project, here's a little "behind the scenes frommy phone" 😁
Hugs and until next time! Thanks for reading!
e-mail 😀
Sign up with your email address to receive news and updates.